The 1796 Draped Bust Dime (Buy on eBay) was the first year of issue for the series and one of only two years to carry the small eagle reverse design. The issue is scarce with a mintage of 22,135 pieces, however a surprising number of high grade examples have managed to survive, including multiple examples above gem condition and often with proof-like surfaces.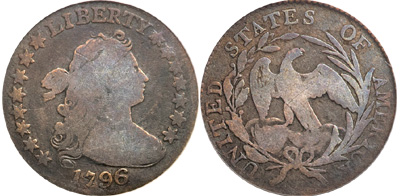 The surviving high-grade examples have led to the interesting theory that perhaps some specimen or presentation strikings were made, either for important people or as mementos to the first dimes struck at the Philadelphia Mint. While none of this has ever confirmed, it appears that special circumstances led to the creation of some high-end 1796 dimes, the best of their type and the coins of choice for a high-end type set.
In 2014, a 1796 Draped Bust Dime graded PCGS MS68 with CAC verification realized a price of $793,125 at auction. This coin represents the single highest graded coin for the series, as well as the highest graded United States silver or gold coin of any denomination with a pre-1800 date.
Coin Specifications
Designer: Gilbert Stuart
Composition: 89.24% Silver, 10.76% Copper
Weight: 2.70 grams
Diameter: 19 mm
Edge: Reeded