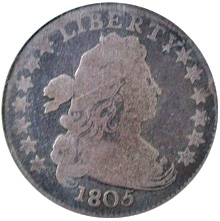 The Draped Bust Dimes were minted from 1796 to 1806. Mintage levels remained low for the initial portion of the series, but increased to higher levels for the final two years. One issue established a mintage low for the denomination, which would stand for more than six decades.
The series is divided into two portions, with the coins of 1796 and 1797 featuring the small eagle reverse design and the coins from 1798 to 1806 featuring the heraldic eagle reverse design. The total mintage for the small eagle subtype is a mere 47,396 pieces across the two years. The heraldic eagle subtype has a much more significant 422,010 pieces minted across the years of issue.
The 1804 Draped Bust Dime has the lowest mintage of the series at only 8,265 pieces. This coin is viewed as an important rarity for the denomination. A lower mintage was not seen until 1866 and 1867 when 8,000 and 6,000 pieces were minted.
Mintage figures for the Draped Bust Dimes are indicated below. For several years, there are overdates or significant varieties noted by collectors. These are not included below since mintages for individual varieties are not known.
| Date | Mintage |
| --- | --- |
| 1796 | 22,135 |
| 1797 | 25,261 |
| 1798 | 27,550 |
| 1800 | 21,760 |
| 1801 | 34,640 |
| 1802 | 10,975 |
| 1803 | 33,040 |
| 1804 | 8,265 |
| 1805 | 120,780 |
| 1806 | 165,000 |