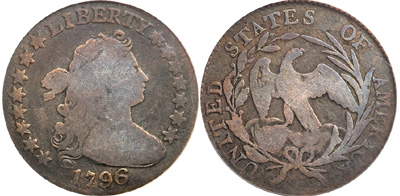 The 1796 Draped Bust Dime was the first year of issue for the series and only one of two years to carry the small eagle reverse design. With a mintage of 22,135 pieces, this issue is of roughly equal rarity to the 1797 dime, although it is known for some high grade examples, above gem condition and often with proof like surfaces.
This has led to the interesting conclusion by some that perhaps specimen or presentation strikings were made, either for important people, or as mementos to the first dimes struck at the Philadelphia Mint. While none of this has ever confirmed, it appears that some special circumstances led to the creation of some high-end 1796 dimes, the best of their type and the coins of choice for a high-end type set. Truly original pieces of this year easily sell for 6 digit values, while circulated examples in problem-free condition are not easy to acquire either.
In April 2009, a 1796 Draped Bust Dime graded NGC MS 67 with the star designation realized a price of $253,000 at auction. The coin was described as "prooflike mint state" in reference to its special appearance, which in the past may have been described as a proof or specimen striking.