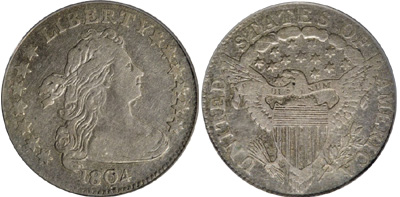 The rarest date amongst the early dimes is the 1804 Draped Bust Dime with a mintage of just 8,265 pieces. This was the only sub-10,000 mintage for the dime denomination until the 1860's.
Seldom offered for sale, this date is comprised of two major varieties, identified by either thirteen or fourteen stars on the reverse. Both varieties are rare, with the fourteen star variety commanding a premium at most grade levels.
No uncirculated examples of the 1804 dime have been graded, although a single fourteen star variety comes close. This example was graded NGC AU-58 with CAC verification and is believed to the be finest in existence. The coin sold for the amazing sum of $632,500 at an auction held in July 2008. This was by far the highest price ever realized for a Draped Bust Dime of any issue or variety.